About
O

n Ralph Avenue in Glencoe, Alabama, lies a golf course straight from the heart of Scotland. Not a long layout, but with small greens, Briarmeade has narrow fairways which requires you to have complete control of your swing to score well. Briarmeade has some great players, and has had some of the best in the southeast to play. With these outstanding ball strikers the course record still stands at 62. We have produced club professionals, Tour players and the president and director of the Professional Golf Association, Mr. Ken Lindsay.
George Black founded Briarmeade in the early spring of 1935. Mr. Black owned the property and designed the original nine holes. The course occupies approximately one hundred twenty-five acres. In 1937, Mr. Black entered into a contract with Republic Steel Corporation of Gadsden, to furnish the Golf Course for employee recreation. In 1944, Republic Steel bought the Golf Course and combined the course with Gulf States Steel Y.M.C.A. The Course remained in the name of Gulf States Steel Golf Club until February 1987, when it broke away and was organized again as Briarmeade Golf Club.
During the years 1951-52 Republic Steel added the back nine holes and built the present club house under the direction of Mr. Black. Mr. Sam Guilford, an engineer with Republic Steel, designed, drafted and oversaw the construction of the Club House. In August 1988, Briarmeade purchased the HEI Building with 3.2 acres of land. The HEI building has provided various uses for the Club. In 1993-94, Briarmeade built a cart shed on the property which can house sixty three golf carts. Briarmeade has added additional cart spaces since the oringional shed was built. The building will now house approximately one hundred golf carts.

A tribute to Mr. Black: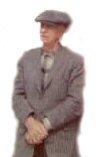 George Black was known as the "grand ole pro" of golf in Etowah County. He was a native of Carnoustie, Scotland, and came to Gadsden in 1919. He was instrumental in building the original layout of the Gadsden Country Club and other courses in this area. Mr. Black remained the manager and golf professional until his retiremant in 1968.
Mr. Black loved the game and enjoyed teaching others especially the young. One of his students, Ken Lindsay, made his own mark in the game and became an official and President of the Professional Golfers Association. Mr. Black passed away in November 1971. Briarmeade Golf Course remains a tribute to his vision and guiding hand for establishing this golf course.